"Vogue", Performing Arts between earth and water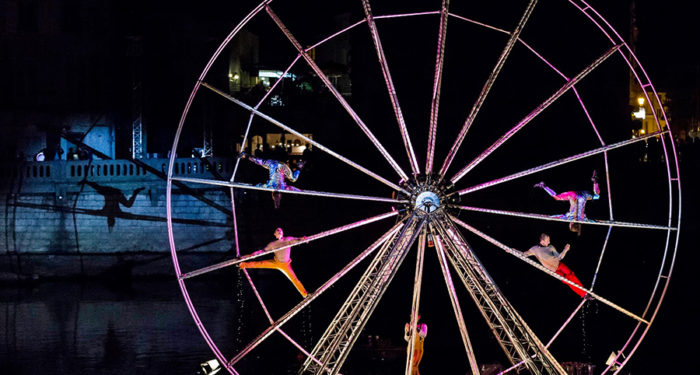 2021
A participatory parade of people in the streets and on the banks, along with amphibious tank. A show combining circus on water and special effects.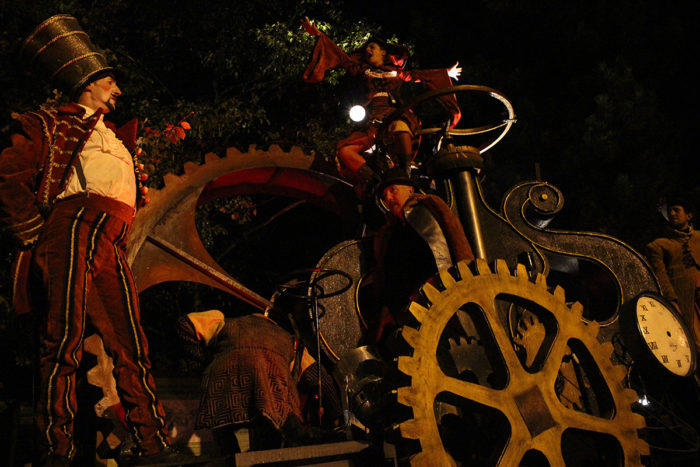 A floating scenography
"Vogue" is a lively and interactive show. 'VOGUE' sails between reality and imagination … Around a drama related to the actual immersion of a fairground wheel in the water, "VOGUE" challenges us about the consequences of a major flood.
Vogue is first, a large participatory parade of people in the streets. Their goal: make the celebration possible despite the rising waters, and put the big wheel in motion. A dip in one world to offset aesthetic reminiscent of the 20s fairgrounds Fairground artists work on the wheel, vertical moving scene for a playful and poetic balance game.
A fresh and wet show, punctuated with water effects and fire, which leads us through circus and theater, to a final pyrotechnic elegant
Participatory parade of people – Option
The people actors of the show. One way to combine the festivities and civic engagement. The show on the water is preceded by a parade in the streets and Co. on the banks. Residents can participate in this parade accompanied artists, and a tank equipped with sound and light. They are trained in a few hours by an artist Co. to become showmen actors walking. On the day, all participants are in costume and makeup. Using an offset proposal, citizens are taken on an adventure which they are the heroes.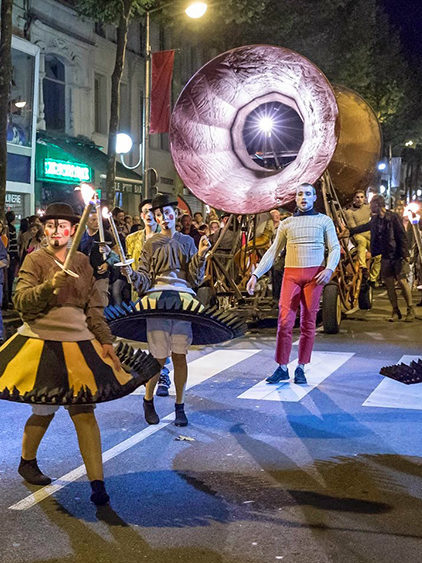 Technical informations
Infos
Nocturne All age PARADE 30 to 60 min + 40 min SPECTACLE, Team 12 to 14 people
Fiche technique