Mechanical Clock – street show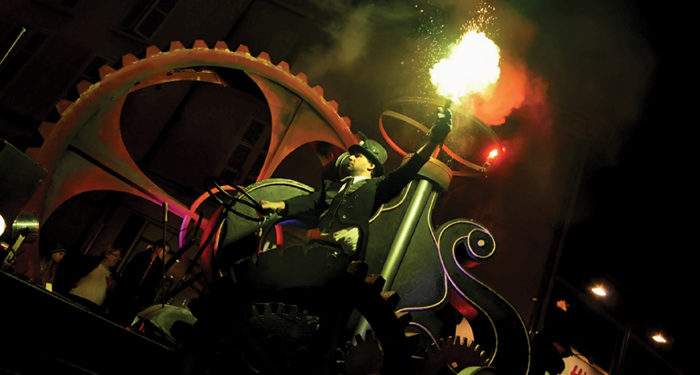 2021
A machine to tell stories about the time and folly ….
Street show – Ambulatory
A show that is part of the tradition of street theater ambulatory declining around large machinery and visual poetry.
Ambulation as a dynamic form of entertainment and as a means to invest privileged urban space to showcase in its entirety and to marry the specifics of each site. In counterpoint shows large sizes that have made the reputation of Coy (Nazca, O-10-C …). "MECHANICAL CLOCK" is a lesser form of entertainment whose intention is to go "whisper in the ear of the beholder.
"This is to stage some actors and circus, a kind of surreal tour where the audience is asked to bring with him his eyes, his ears, his sensitivity and his memories refresh and shoving.
As a scenic support, a machine straight after a clock, a motor boat or a music box mechanism serves as a thread for the show.
Based substantially on the spaces and movements offered by this machinery, actors, stilt walkers, dancers, singing and telling time, the madness of men.
No sentimentality or excessive poetry but a moment shared, funny and moving, the time to travel. A highlighting of relevant machinery taking into account a requirement for mobility and thus reduced electric power.
Emphasis will be placed on light sources with low consumption and high efficiency. In places that will accept it, a desire to offer pyrotechnic tables. Security constraints caused by the use of pyrotechnics fail to be more specific in the description of these tables. However, experience in the field of Louxor gives the advantage of having a business card recognition….
This ambulatory street show continues and travel to other events.
Contact us for your carnivals, parades, events, parades.
Galerie